The Concept 2 rowing machines have been some of the best selling in the market for many years. Even as the popularity of ergometer workouts has dipped and lulled, Concept 2 has managed to keep their customers happy.
As far as the world's best rowing machines go, the Concept2 range and the waterrower should be considered top of the pile. I would say that the main thing that tells them apart has to do with whether you are looking for a more competitive training machine or one that fits better into your home. Either way, you will be happy with the result as they are both excellent rowing machines.
Having said that, this page is about the Concept 2. If you want a direct comparison between the Concept2 and the Waterrower, have a look at this page.
Concept 2 Rowing Machine Models
There are now 3 rowing maching models to choose from: The model D, model E and the Dynamic.
Concept2 Dynamic Rower
The Dynamic is the newest machine from Concept2 and is really aimed at club rowers, who are trying to match the action of a rowing shell on the water as closely as possible. It really cool though and I hope to be able to try one out some day soon.
Here's what Concept2 say about them:
The Dynamic RowErg offers the closest simulation to rowing on the water and was developed to meet the specific training needs of the competitive rowing athlete. Unlike our static Concept2 RowErg, the footrest on the Dynamic is free to move and there's minimal movement of body mass throughout the stroke. The Dynamic demands similar concentration and body control to that needed when rowing in a boat, making it an excellent sport-specific training and coaching tool. Using the Dynamic Link accessory it's easy to join together two or more Dynamics, so you can train as a team boat.

If you're looking to move faster on the water, the Dynamic is what you've been waiting for.

https://www.concept2.com/indoor-rowers/dynamic
Concept2 Model D (RowErg) Rowing Machine Review: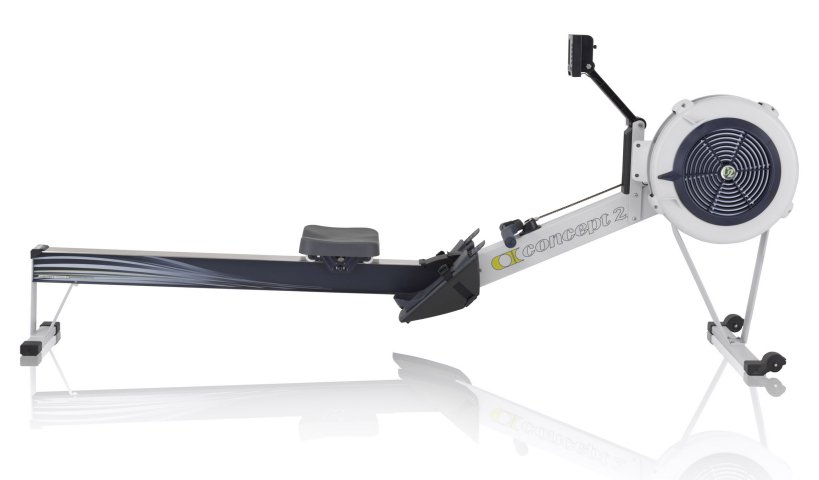 This is the old classic from C2 and it's been through a number of design iterations to get to the quality machine that it is today. Of all of the rowing machine models sold by Concept2, this is the most popular for home use.
I've put the word RowErg in brackets as C2 have been doing a bit of rebranding of their machines recently. More on that later, but here's the (folded) new look.
The C2 model D (or E) It's not the cheapest machine out there, but the build quality is excellent as you would expect when you consider the hammering they get in rowing club boat houses. There are not many clubs in the world who do not choose the Concept 2 model D as their primary training machine. There is also a big community of online rowers using the C2 machines and it is the machine used for the indoor rowing world championships and pretty much all Crossfit competitions.
Specifications: The Model D is 96 inches long and 24 inches high with a seat height of 14 inches. It is made with steel rear legs and aluminum front support legs. When assembled, you will need a space of 8 feet by 2 feet to use it properly. However, it can be stored into a considerably smaller space of 25 inches by 33 inches by 54 inches. The machine weighs a total of 57 pounds.
If the Rowerg Model D is a bit too pricy for you, the Stamina Air rowers are a great alternative.
Concept2 Model D verses Model E :
The only real difference between the two is the height of the seat which is 20 inches off the ground to make it easy to get on and off for those with limited mobility or flexibility issues. Both are now delivered as standard with the PM5 monitor.
Specifications: The Model E is 96 inches long and 24 inches wide with a seat height of 20 inches. All of its support legs are made from welded steel for increased durability and strength. The nickel-plated steel chain is housed in a full enclosed chamber. The Model E Rower can also be stored in a folded position but will take up a bit more space at 25 inches by 47 inches by 54 inches and weighs 65 pounds. (http://www.concept2.com/indoor-rowers/compare)
Despite the differences between these two popular rowing exercise machines, they share many similarities that make both a great choice for fitness enthusiasts. Both models:
Provide an excellent, full body workout using air resistance
Can be folded for easy storage
Are designed for home use
Allow for a full range of motion to mimic rowing on the water
Monitoring Your Progress
All Concept 2 indoor rowers come with come with the PM5 monitor as standard performance monitors to help you understand and measure your fitness.
One of the coolest innovations over the past few years in indoor rowing has been the development of a number of Apps to track your progress. Apart from ErgData and the standart Concept2 utility, there are a bunch of third party apps which allow you to join other rowers online in real time, teach you how to row and create workout amongst other things. Check them out on the Concept 2 website.
And this is worth a watch – it's a great interview with a C2 training expert explaining what the newest monitors can do.
The Seat
Even thought the seat on a Concept2 has been ergonomically designed, I have found that a seat cover makes your workouts somewhat more comfortable and I would recommend anyone who is considering a rowing machine to get one. Here's a good one for the C2.
Great Rowing Machines, Great Workouts
I have a model D at home. I bought it new in 2012 on Amazon and cannot recommend it highly enough! It will last you a lifetime, and even if something does eventually break, Concept2's service is excellent. The only thing I have had to do was to replace the rollers under the seat after five years of hard use.
Of course you could go for something cheaper like a magnetic rower, and many of them are pretty good, but I wouldn't swap my C2 for the world!
Concept2 RowErg
C2 have been doing a bit of rebranding of their machines, but they are basically the same as ever. They just look a load cooler! (Well I think so anyway)
The images below are taken from the Concept2 website.