The Concept 2 rowing machines have been some of the best selling in the market for many years. Even as the popularity of ergometer workouts has dipped and lulled, Concept 2 has managed to keep their customers happy. If you are searching for the perfect rower for your home and are thinking about the Concept 2 Rower Model D or the Concept 2 Rower Model E, you really can't go wrong with either. In my opinion they are the best rowing machines on the market and cost somewhat less then the next best, the waterrower.
Concept 2 Rowing Machine Models
Concept 2 makes a variety of different rowing machine models, so it is important for you to understand the differences between them. Their design specifications make them ideal for certain individuals, fitness goals, and planned use.
Concept2 Model D Indoor Rowing Machine: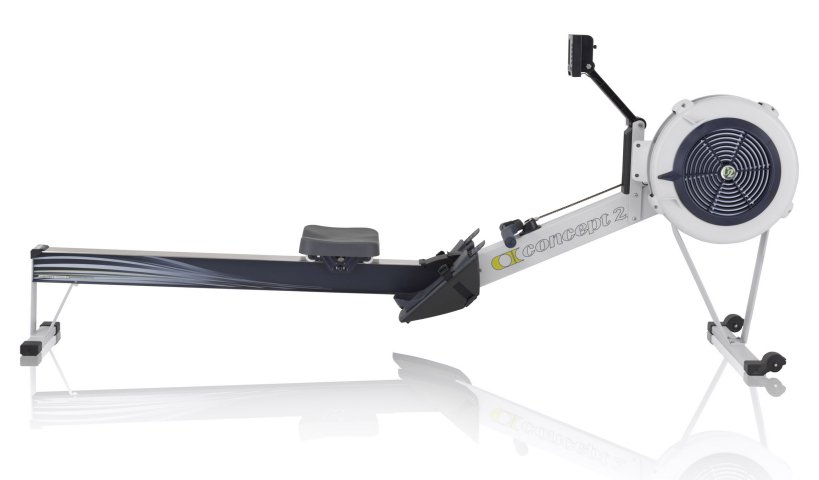 Of all of the rowing machine models sold by Concept2, this is the most popular for home use. It is reasonably priced and offers a workout experience that very closely mimics what you would experience at the boathouse. If you are interested in getting into competitive indoor rowing, the Model D is the best choice as it is considered the standard for recruiting and score submission.
Specifications: The Model D is 96 inches long and 24 inches high with a seat height of 14 inches. It is made with steel rear legs and aluminum front support legs. When assembled, you will need a space of 8 feet by 2 feet to use it properly. However, it can be stored into a considerably smaller space of 25 inches by 33 inches by 54 inches. The machine weighs a total of 57 pounds.
Concept2 Model E Indoor Rowing Machine:
The Model E has a few significant variations from the Model D that make it a better choice for some users. Most notably, it includes the PM4 Monitor. This fully functioning monitor will give you a wide variety of information on your workout experience that you can use to adjust your exercise routines or target specific health and fitness goals. The seat is also a bit higher, making the Model E preferable for individuals with lower mobility or who will move onto the rower from a wheelchair.
Specifications: The Model E is 96 inches long and 24 inches wide with a seat height of 20 inches. All of its support legs are made from welded steel for increased durability and strength. The nickel-plated steel chain is housed in a full enclosed chamber. The Model E Rower can also be stored in a folded position but will take up a bit more space at 25 inches by 47 inches by 54 inches and weighs 65 pounds. (http://www.concept2.com/indoor-rowers/compare)
Despite the differences between these two popular rowing exercise machines, they share many similarities that make both a great choice for fitness enthusiasts. Both models:
Provide an excellent, full body workout using air resistance
Can be folded for easy storage
Are designed for home use
Allow for a full range of motion to mimic rowing on the water
Using the Concept 2 Row Machine at Home
Exercising on an indoor rower can be a challenging and fun experience. However, you should be prepared for a bit of a learning curve when you first start using it. If you do not get into the rowing motion easily you may need to give your muscles some time to learn to make the movements naturally. This should not take long and you can find lots of helpful videos online to give you an idea of what technique you should be using.
One of the great things about a row machine workout is that you can adjust it to fit your needs and fitness goals. For example, do you want to do a light cardio workout? In that case, you can keep your movements slow and deliberate for a longer session that will burn calories without massively accelerating your heart rate.
On the other hand, you can also opt to take your rowing exercise to a higher level by doing sprints or interval workouts. These types of indoor rowing workouts can push you to a whole new degree of fitness and exhaustion. They also serve to mix up the experience of working out on a cardio machine which can be tiresome and even boring for some people.
There are many free resources online if you are looking for new rowing exercises or ideas for interval training. Concept 2 has several workout routines available on their website. Use these to keep your workouts fresh and engaging.
Monitoring Your Progress
All Concept 2 indoor rowers come with performance monitors to help you understand and measure your fitness. The Concept2 Model E comes with the PM4 monitor standard while the Concept2 Model D ships with the PM3 monitor with an optional upgrade to the PM4. The features of the Concept 2 PM3/PM4 monitors include:
Data: Monitors display your workout distance, pace, speed, and calories burned in a variety of different display options.
Games: This feature is especially helpful on days when you need to mix up your workout routine. Both monitors have simple games that keep you motivated by combining your rowing exercise with fishing or biathlons. The PM4 has two additional games: darts and target training.
Concept 2 Racing: Since both ergometer models are often used for indoor racing, the monitors are designed to connect to up to 80 other machines to keep accurate racing results.
PM4 Special Features: The PM4 comes with a heart rate belt and is built with a rechargeable battery pack. It can also link to up to eight other machines for wireless racing.
The Seat
Even thought the seat on a Concept2 has been ergonomically designed, I have found that a seat cover makes your workouts somewhat more comfortable and I would recommend anyone who is considering a rowing machine to get one. Here's a good one for the C2.
Great Machines, Great Workouts
If you want an excellent cardio workout at home, you cannot go wrong with a Concept 2 erg. Both the Model D and the Model E are well-built machines that will help keep you fit. For a lower price and simpler features, the Model D is a smart buy. If you want the higher seat, sturdier design, and better fitness monitor, your best bet is the Model E.
The Model D is the one I have at home. I bought it new in 2012 on Amazon and cannot recommend it highly enough! The model E costs a bit more which, to be honest, I don't really get as the only differences are the height and the monitor.
Video: Short but to the point!
---