The first thing that you're going to notice about the Mr Rudolf / Mr Captain / Mr Right rowing machine is that they are that they are cheap Chinese rip-off of the magnificent Waterrower rowing machines.
Essentially, these are all the same machine with different branding and some different monitors. They look almost exactly the same as the waterrowers, and, according to all the good Amazon reviews, they must be absolutely terrific, right?!
Knowing the waterrower as I do (see my video review here), my first thought was, why is Waterrower inc. not sueing the hell out of these guys. I mean, it is virtually a one-to-one copy. Surely the thing is going to be impossible to put together and will fall apart within a month of buying it. Surely, the monitor is going to be completly useless and the tank is going to leak horribly.
I think the best way to look at this is to see how the machine stands up to the claims that it makes on the Amazon listing
Mr Rudolf Rowing Machine: Amazon Listing Description
USING WOOD FROM REPLENISHABLE SOURCES-We strive to manufacture rowing machines that are of a stylish design and built to last,the shape of the Rowing Machine is professionally designed like a real ship,and the real water resistance will perfectly bring you a feeling of real-life outdoor rowing experience.while maintaining our commitment to eco-friendliness.
Sorry to say, but this is complete rubbish. The machine is made out of MDF (a particleboard) with a plastic wood look laminate finish.
They write that it's "Professionally designed like a real ship" – Good grief! I think what they meant to write here was "professionally copied from a waterrower." Whatever!
EQUIPPED WITH A WORKOUT BLUETOOTH MONITOR – It boasts a highly-visual that displays time, distance, 500M split time, strokes per minute, calories per hour, and watts to keep you motivated to reach your fitness goals.
Pretty much everyone says that the monitor is worthless. The contrast is too dark and the text too small to read whilst rowing. It does not register the SPM (strokes per minute), time or distance correctly and the display cycles continuously between two different screens.
There is a bluetooth connection which is not mentioned in the manual. The smartphone app it pairs with (iConsole+) has way better ratings than competing rower apps and integrates seamlessly with HealthKit on iOS. It will also connect to a Garmin watch which can track the SPM accurately.
REAL WATER ROWING EXPERIENCE – The shape of Rowing Machine is professionally designed like a real ship , which will perfectly bring you a feeling of real-life outdoor rowing experience, but in the comfort of your sweet home and on your own time. They are the ideal rowing machines for home use.
They really are determined to ram the "real ship" design down our throats, aren't they. Are we talking the Mary Celeste or the Titanic here? Anyway, I hope your home is sweet!
COMFORTABLE WORKOUT – Make the most out of your workout as it comes with ergonomic seat, active recoil system, and height adjustable footplates with straps.It features transport wheels for easy movement and simply lift it on its end and store out of the way against your wall or closet when not in use.
OK, we can dig into a bit of meat next…
Ergonomic seat:
The seat is cushioned (i.e. not rock hard like plastic) but could be softer. I reckon it's always a good idea to get a gel seat cover.
Active recoil system
Several people mentioned how the strap started fraying fairly quickly and one talked about it actually breaking. These people also said that the customer service was either non-contactable or was not very responsive.
Height adjustable footplates with straps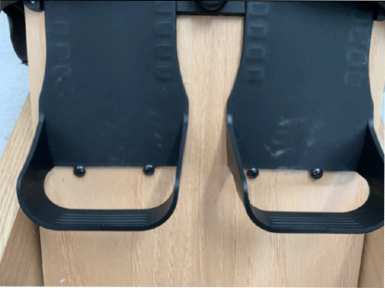 The height adjustment is not stable and slips out of position. One customer ended up adding a couple of screws to stop this happening. Also, for big guys, your feet are quite close together so it ends up being a bit of a "nut cruncher!" His words not mine!
To be fair, I find the feet position on the Waterrower a bit too close together for my liking and, given that this is a replica, it is bound to be the same. 
Transport wheels & Storage
It is easy to stand it up for storage and wheel it into its storage position against the wall. However, these wheels have been known to break and, in the upright position, it has an aesthetically unappealing lean to it.
BUILD FOR HOME GYM – The indoor rowing machine is made with a solid oak wood dual rails, making it perfect for everyday training. Water rower dimensions: 82 L x 22 W x 20 H inches; Weight: 58.5 Pounds; Maximum User Weight Capacity : 320 pounds.
Again – "solid oak" – Not true!
Mr Rudolf Rowing Machine Fake Reviews
As highlighted by CNBC, you shouldn't believe everything that you read on Amazon, particularly the five star reviews. It's actually really fascinating to read literally all of the reviews for a product on Amazon and to try to spot the fake ones.
There are some tools out there such as fakespot.com, that should be able to help but, to be honest, if you keep the product description open on another tab and read positive ones after the negative ones, you start to spot some of the BS quite easily. Just remember that, there ain't going to be any fake negative reviews!
So, my disclaimer here is that I have not personally tested this rowing machine. Instead, I have done the review reading legwork for you and present my opinion here (see about me).
Assembly
So the general consensus is that it's easy to assemble and takes only 20-30 minutes although one review makes the point that she is a 5'3" woman and, despite this clear disablement, she is still able to put it together in under 45 minutes. Not at all cynical about that one!
The best one is on Facebook. This guy actually did a timelapse video of him assembling it – it's worth a watch just for the sheer entertainment value of watching his dog fall asleep and him filling the tank seemingly forever. I get the distinct impression that it took him more than 30 minutes!
Still, it doesn't look complicated although some people said that the instructions were messy and in poor English, but it is much easier to assemble than anticipated, just a bit time-consuming.
Delivery
The shipment will arrive in two boxes and may take up to two weeks.
Build quality
Again, the cynic in me has a bit of a problem believing that the machine is very sturdy, and heavy and that "you can tell it's quality and will last a long time." I guess the fact that they blatantly lie about the material the machine is made from would raise the alarm.
This review confirms my suspicions – "this is absolutely amazingly beautiful – the ash wood color exactly matches my floor." They only actually offer the machine in "Oak" or "Black Walnut" (laminate) – nice one Mag – I loved all your other random Mr Rudolf product reviews by the way. How much do you get paid? 😉
Some of the other, more believable comments are:
Wheel and strap not attached on delivery
Seat track wheels broke
Garbage particle board construction. 
Could not be assembled due to poor manufacturing tolerance. 
It feels cheap from the foot stands to the monitor – the lowest quality possible
Man this thing squeaks multiple times with every stroke I take
Tank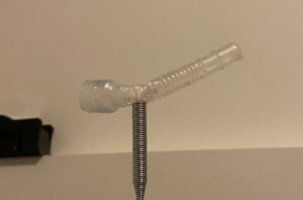 The machine is provided with an electric syphon pump, which seems to work most of the time. One user got very upset about the plastic pipe that came with it. It broke and dropped into the tank and she had to buy a pair of tongs and spend an hour fishing it out!
One frequent complaint is the position of the filler cap which is under the main dashboard and hard to access. There are also no markings on the tank indicating which level to fill it to.
Noise
It it works anything like the Waterrower, then it will be quiet. The nylon strap is much quieter than the chain of the Concept2, and the swishing of the water is really quite pleasant. 
Conclusion
I wouldn't touch this with a twenty foot bargepole! As I stated at the beginning of this review, this is simply a poor Chinese rip-off of the very good and well constructed Waterrower. You are not getting real wood as claimed, the monitor is rubbish and the build quality is poor. If (when) you do have problems, you are very unlikely to be able to get through to any support.
You surely know the old addage "Buy cheap – buy again." If you are set on this type of machine, then you should really save up a bit an spend the extra $400-$500 and buy yourself a Waterrower. If you're still undecided, then my personal preference is for Concept2, mainly because of the monitor and community. I have created a comparison between the Concept2 Rowerg model D and the Waterrower here.
But if you really insist, here's link to the product page on Amazon.
I hope this helps you make a more informed decision.
Cheers,
Craig